Fayette Campus Map/Directions
Fayette Campus Map (Fayette, Iowa)
Download a PDF map of UIU's Fayette Campus (suitable for printing)
Fayette Campus Map Key
Hofmaster Apartments
Edgar Fine Arts
Parker-Fox Hall
Colgrove-Walker
Peacock Plaza
Alexander-Dickman Hall
President's House
Henderson-Wilder Library
Liberal Arts
Dorman Memorial Gymnasium
Baker-Hebron Science
Grace Meyer Square
Andres Center for Business and Education
Garbee Hall
Student Center/Cafeteria
Recreation Center
Alumni House
Winston House
Lee Tower
South Village I
South Village II
South Village III
Facilities Management & Services
Eischeid Softball Complex
Harms-Eischeid Football Stadium
Pattison Soccer Field
Soccer Practice Field
Football Practice Field
Tennis Complex
9-Hole Disc Golf Course
Low Ropes Course
Robertson Woods Field (622 Mechanic St.)
Peacock Arts and Athletic Center
Tailgate and Shelter Area
Lew Churbuck Prairie
Parking Lots
C=Commuter, E=Employee, R=Resident, V=Visitor
Student Center (E V)
Recreation Center (E C R)
Dorman Memorial Gymnasium (E C R)
Peaccock Arts and Athletics Center (E C V)
Garbee Hall (R)
Commuter (C)
South Villages and Lee Tower (R)
Hofmaster (R)
Student Center Staff (E)
Andres Center Faculty (E)
Andres Center (E)
Henderson-Wilder (V)
Facilities Management & Services (E)
Alumni House (E)
South Campus (R V)
Harms-Eischeid Football Stadium (E V)
Fayette Campus Directions
Click the map to visit Google Maps.
Iowa Department of Transportation Fayette Map (PDF)
Travel/Lodging/Restaurant Info
Web Cams
KCRG-TV's Fayette camera is mounted on the roof of Alexander-Dickman Hall, and it is not in a fixed position, meaning KCRG can rotate it to look at campus and Fayette from different directions. Use your browser's Refresh button to update images.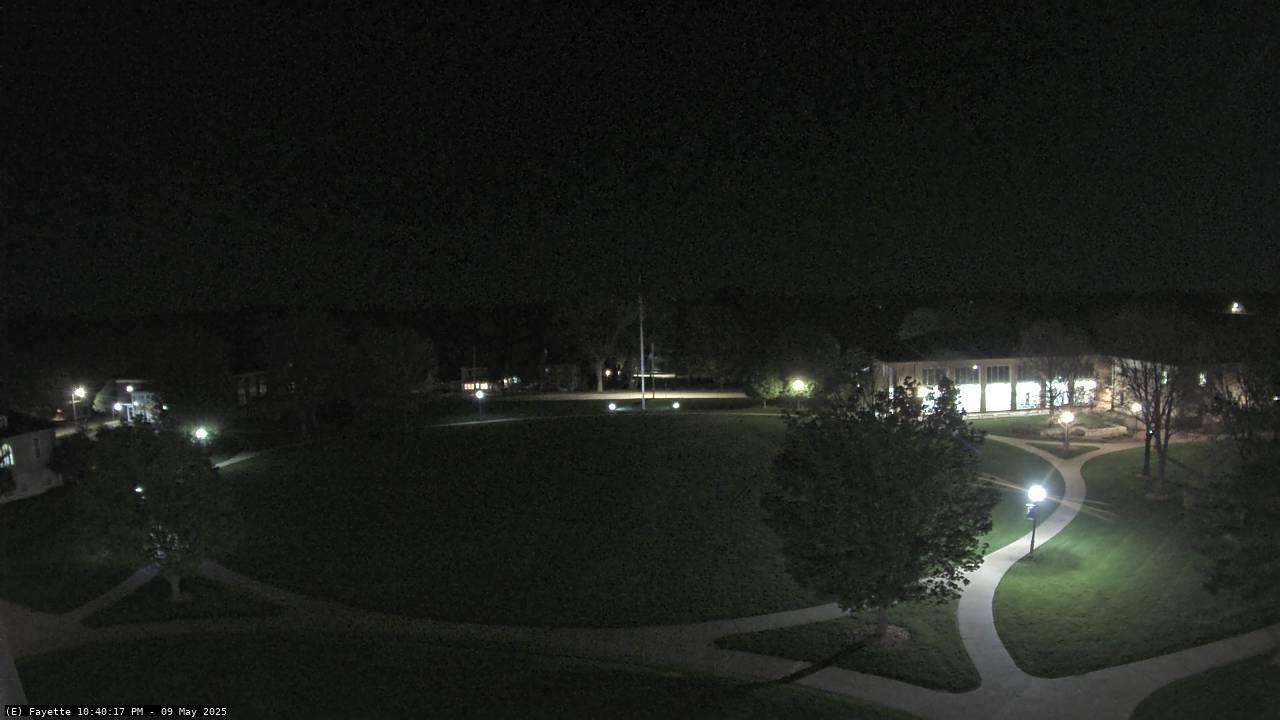 Enlarge image (640×480)
Virtually Tour Fayette Campus
Andres Center for Business and Education
Liberal Arts Building
Student Center
South Village I